FCB Bulletin
Stay Up-to-Date! 
First Community Bank's latest news, blog posts, and announcements will be posted here on a regular basis. Check back often to make sure you're up to date!.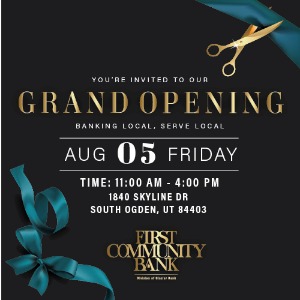 Now Open: South Ogden Branch
We are excited to announce the opening of a new branch in South Ogden! Plans to expand into the Ogden market have long been in place and we are thrilled to be able to see those plans finally come to fruition. The Ogden valley is continually growing and we look forward to being able to do our part to build the surrounding communities and serve the amazing individuals and businesses in our footprint. The address for the new branch is: 
First Community Bank South Ogden Branch

1840 Skyline Drive
South Ogden, Utah 84403

Attend our Grand Opening on Friday, August 5th from 11:00 AM - 4:00 PM for food, games, and giveaways!
---
Learn from the Pros!

Building Defenses Against Fraud
Leanne Hartman, SVP Retail Division Manager
Fraud is on the rise and becoming more common. Protect yourself from financial fraud and identity theft with these tips! 
Successful Branding for Your Business
Olivia Dario, Marketing Assistant
Create a lasting impression on your customers with an effective branding strategy. Learn more!

Are You Financially Literate? 
Bryan Jack, EVP Chief Financial Officer
Did you know less than 34% of adults can pass a financial literacy test? Learn about a couple free tools that can help you succeed!

Secrets to Successful Savings
Brady Stratton, SVP Marketing & Sales Officer | Published May 5, 2022
Saving money is easier said than done! Learn a few secrets that will help you be successful in your efforts! 
3 Tips to Successfully Navigate the Housing Market 
Eric Fisher, Real Estate Manager NMLS#692792 | Published April 20, 2022
Buying a home in 2022? Learn about Utah's housing market and read our helpful tips for buying your next home!
The Community Banking Difference
By Shelly Holt, President/CEO | Published March 16, 2022
Learn what sets community banks apart from other institutions and how they work to build your communities.