The Community Banking Difference
By Shelly Holt | Published March 16, 2022

Did you know that there are all types of banks? Some are national and have locations and do business all over the United States. Some banks are regional and cover one area on the map. There are also industrial loan banks that usually provide a certain type of credit card or loan. Then there are community banks. That is what we are. It is even in our name, First Community Bank, Utah. These banks may be smaller in size or geographic footprint compared to the others listed above but they play a crucial role in the success of your community.
So, what sets community banking apart from all the other options out there? I can think of at least two major ways.
We are local.

What this means is that we do business in our communities where our branches are located. We lend to businesses that you know and care about instead of sending our available funds across the country to mega-corporations. We have local leadership and officers who know the economic conditions of the communities they serve. We can make quicker decisions on loans and get you the answers you need when you need them. Instead of having a "one-size fit all" mentality, we can provide more custom-built solutions that fit your financial needs.
We invest in our communities.

I like to think we make dreams come true, one person and one community at a time! We help our neighbors with their first savings account or car loan or even their first home or dream home. We sponsor local organizations and causes that are near and dear to your heart. While our available budgets may not be as large as some of your national banks, we give back in additional ways through volunteer hours, financial literacy, business development and much more. Our employees can be found at food banks, local car shows, city flower planting- the list goes on and on. These bankers are your neighbors, your friends and in some cases your family. They care about you and your overall success.
There are many other things that set community banks apart from their peers but at the heart of it all, the biggest difference is the relationship you form and the investments that go directly back into the place you call home. I would encourage you to consider community banks as an option for a financial partner. We'd be happy to have you! As the weather warms up, look for us in our First Community Bank shirts serving our community and come visit us at any of our 10 community branch locations.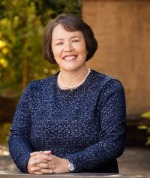 Author: Shelly Holt, President and CEO
Shelly Holt is the President/CEO of First Community Bank Utah, Division of Glacier Bank. She has been with the bank for over 19 years and has a passion for the employees and communities she gets to work with. She also sits on the board of the Davis Arts Council, a local non-profit whose mission is to enrich and strengthen the community through the power of the arts.