Having Your Credit Card Work For You
By Dawn Brandvold | Published February 8, 2023

We've all heard the horror stories and cautionary tales of credit cards. Credit card debt is the second largest debt source for most Americans, only behind mortgages. In 2022, the average person had just over $6,000 in credit card debt. Across the U.S. most people carry a balance from month to month. It's no wonder that many people wonder if it makes sense at all to even have a credit card.
If you pay off your balance monthly, think of your credit card as a no interest personal loan. Pay off the balance on your statement and you pay zero interest! Pretty simple, right? However, using a credit card without a plan can equal financial disaster, especially for first-time credit card users. Here are some steps to ensure that your first credit card leads to a good credit score and wise choices:
Start small. Use your card to make a few manageable purchases each month. Some folks even pay off their purchases immediately. Using the app associated with your card will allow you to do this, as well as a great way to track usage, keeping your card safe from any fraudulent use.
Try not to charge more than you can afford to pay back within the billing cycle. Sure, unexpected things happen, and a credit card can help you in those situations but having an emergency savings plan can make it possible to afford those surprises. Which leads us to….
 Never (or rarely) carry a balance. Paying just the minimum is the fastest way into the credit card debt trap. If you can't pay the balance off in full, pay as much as you can above the minimum payment amount.
 Strategize ways to pay off your credit card debt by prioritizing payments. Some experts advise to tackle the smallest balance; others promote paying off the highest interest rate card first. Choose the one that appeals to you and stick to the plan. Pay the minimum on the other cards and extra on the account you have targeted for pay-off.
 As tempting as it is to sign up for store credit cards and get the additional savings for that first time purchase, keeping one or two credit cards is all you really need in your wallet.
 Finally, spend "mindfully". Focus on needs, rather than wants and only indulge in those wants that will bring you lasting pleasure.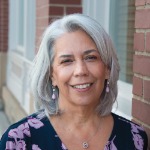 Author: Dawn Brandvold, VP Consumer Loan Manager
Dawn has worked with First Community Bank for 25 years. She is actively involved in the community and has served on various boards throughout her career including the YMCA of Northern Utah, Safe Harbor Crisis Center, and the Davis Arts Council.